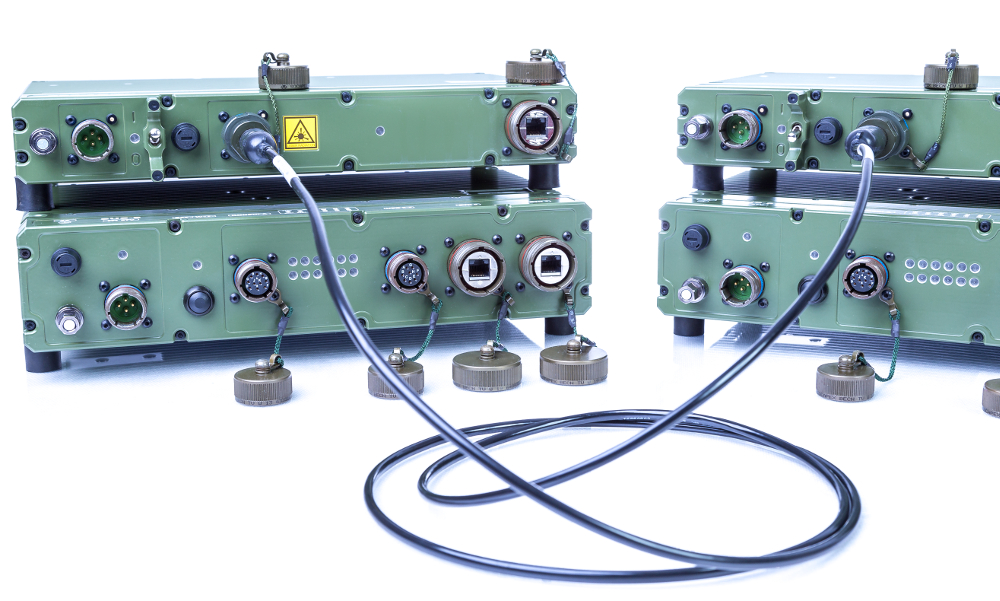 PURPOSE
The ZNO DATA DIODES are designed to protect information, including classified information classified under SECRET / NATO SECRET / SECRET UE/EU SECRET.
APPLICATION
ZNO DATA DIODES are devices ensuring unidirectional data flow between systems (subsystems) or IT networks and strict confidentiality of data processed in the system with higher classification (higher security level) in relation to users of a system with a lower classification.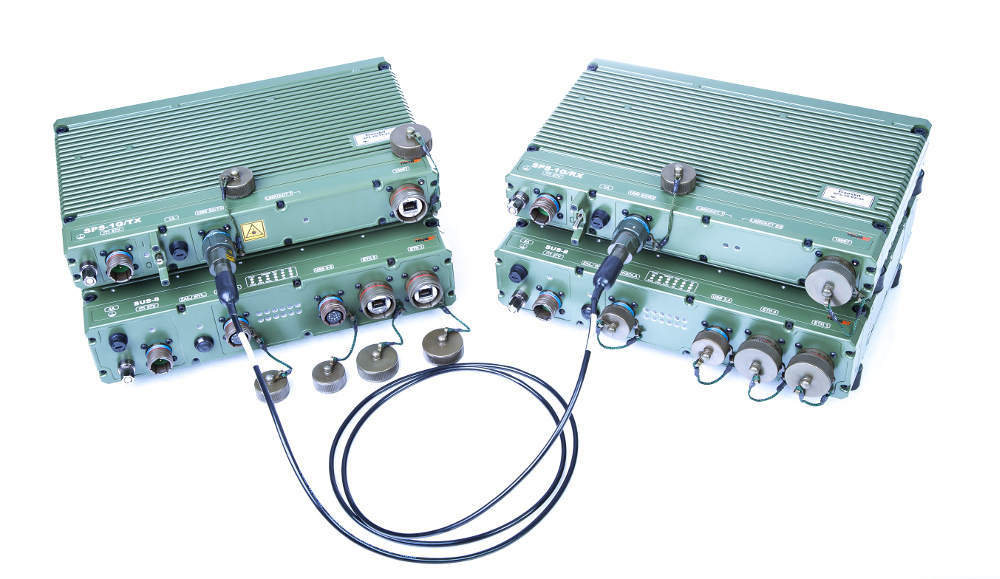 Device consists of a certified set of specialised one-way fibre-optic interfaces (SPS-1G/TX/RX-02), data flow controllers (transmitting and receiving servers), a set of cables and specialised software (operating system and application software).
DATA FLOW CONTROLLERS

... provide hardware and software interfaces with the connected IT systems.

SPECIALISED SOFTWARE

... is intended for filtering and transferring permitted information through fibre-optic interfaces.

ONE-WAY FIBRE-OPTIC INTERFACES

... are responsible for ensuring unidirectional data flow between the connected systems.

Transmitting and Receiving Unit designed for use in harsh environments:  - the ability to be assembled in any set of transmission modules;  - MOBILE RUGGED or SERVER RUGGED transmission controllers;  - data rate up to 1Gbps.
Automatic replication of the system of the BLACK side files on the RED side. File permissions, location and properties are reproduced. Additional operations can be performed (both on the BLACK and RED side) on transferred files before they are further processed. Option of supporting many sessions with different configurations is available.
Managing speed of data transfer, load balancing, bandwidth split between different applications and users.
Data stream transfer performed in real time, including sound and vision, transmitted in accordance with IP protocols (UDP and TCP) from BLACK network to RED network.
Email transfer from BLACK network to RED network users based on the SMTP protocol. Option of defining translation rules (domains, users, etc.).
Multicast transmission and data transfer in the ASTERIX format (AllPurpose STructured Eurocontrol SuRveillance Information EXchange).
Data transfer from AFTN network(Aeronautical Fixed Telecommunication Network)
UDP/IPv4
TCP/IPv4
Multicast
ASTERIX-PL
Eurocontrol ASTERIX
NTP
FILES (FTP/sFTP, SMB/CIFS, NFS)
FILES (FTP/sFTP, SMB/CIFS, NFS)
Transmission protocols using serial links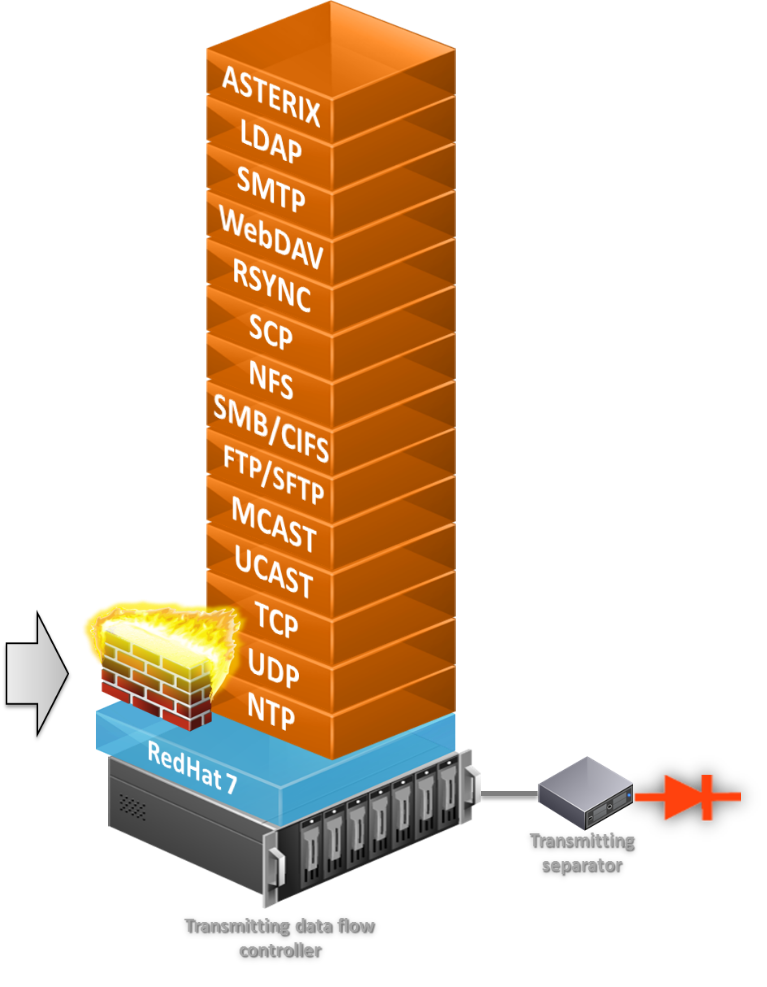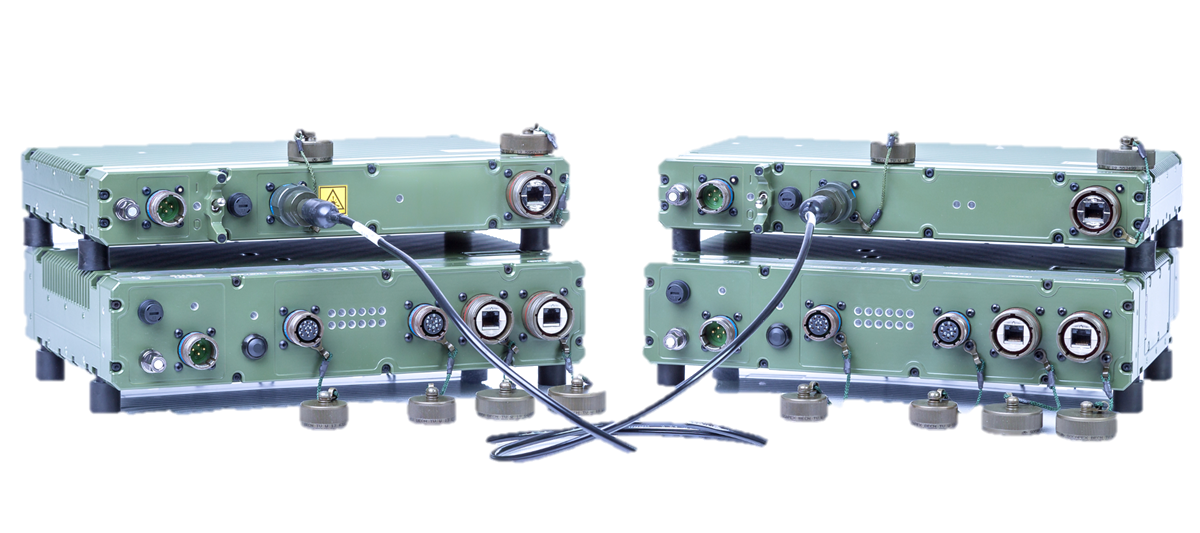 DEVICE MAY BE OPERATED IN THE FOLLOWING ENVIRONMENTAL CONDITIONS:
OPERATING TEMPERATURE RANGE
FROM -30°C TO +50°C
STORAGE/TRANSPORT RANGE OF TEMPERATURE LIMITS
FROM -40°C TO +65°C
MAXIMUM RELATIVE HUMIDITY
95-98% (AT +40°C)
LIFE OF THE DEVICE(TARGET OPERATING STANDARD)
Tz > 5 YEARS.
EXTERNAL INTERFACES
Ethernet (Cu)
10/100/1000Base-T
Ethernet (Fo)
1000Base-SX
Serial
RS-232C
Console
VGA, 2x USB, RS-232C
DIMENSIONS
UNIT (HEIGHT/WIDTH/DEPTH)
2X 126/330/265 mm
ELECTRIC PARAMETERS
POWER SUPPLY
+27VDC(18-32V)
MAXIMUM POWER CONSUMPTION
UP TO 250W
ELECTROMAGNETIC COMPATIBILITY
NO-06-A200(KRE-02, KCE-02)
MECHANICAL AND CLIMATE CLASSIFICATION
GROUP SIGNED N.7, N.9, N.11-O-II(A|B), ACCORDING TO NO-06-A101÷108

FILBICO sp. z o.o.
ul. Prymasa S. Wyszyńskiego 7
05-220 Zielonka, Polska
---
---
---
---
---
---
---
---